Pusat Hemodialisis Mawar (PHM) is an independent charitable organisation and was officially opened by the Fourth Prime Minister of Malaysia, Yang Amat Berbahagia Tun Dr. Mahathir Bin Mohamad on 24th February 1997 in a mission to improve the health and quality of life of people living with kidney disease.
With the support of the Malaysian public, Pusat Hemodialisis Mawar (PHM) has been in the forefront fighting against kidney disease and providing salvation for those who once had lost their hopes to live.

Today, after 23 years of operations, PHM has achieved a premier-class of subsidised dialysis treatment and rehabilitative programme.
Currently we have 2 active dialysis units, Cempaka Unit and BMF - Teratai Unit. Both Units are managed by very experience staff nurses with post basic renal training.
We also have in house dietitian who provide counseling to all our patient.
BMF - Teratai Unit
There are 26 dialysis machines, 4 of these machines are allocated for Hepatitis B patients and 5 machines for Hepatitis C patients.
Cempaka Unit

There are total 18 dialysis machines in this unit.
Dialysis Schedule
| | |
| --- | --- |
| Day | Operating Hours |
| Monday | 06.30 - 21.00 |
| Tuesday | 06.30 - 21.00 |
| Wednesday | 06.30 - 21.00 |
| Thursday | 06.30 - 21.00 |
| Friday | 06.30 - 21.00 |
| Saturday | 06.30 - 21.00 |
| Sunday | Closed |
What is Dialysis?
If your kidneys no longer function properly and waste products, which your kidney would normally dispose of, accumulate in the body, you are diagnosed as having uraemia. Without dialysis treatment your health will be affected, causing nausea, vomiting, cramp, shivering, drowsiness and finally bringing on a coma.
Fortunately, we live in a time when there are treatments and medicines that can replace the functions of the kidneys and keep the body alive. One type of renal replacement therapy. It means a treatment that replaces kidney function is hemodialysis.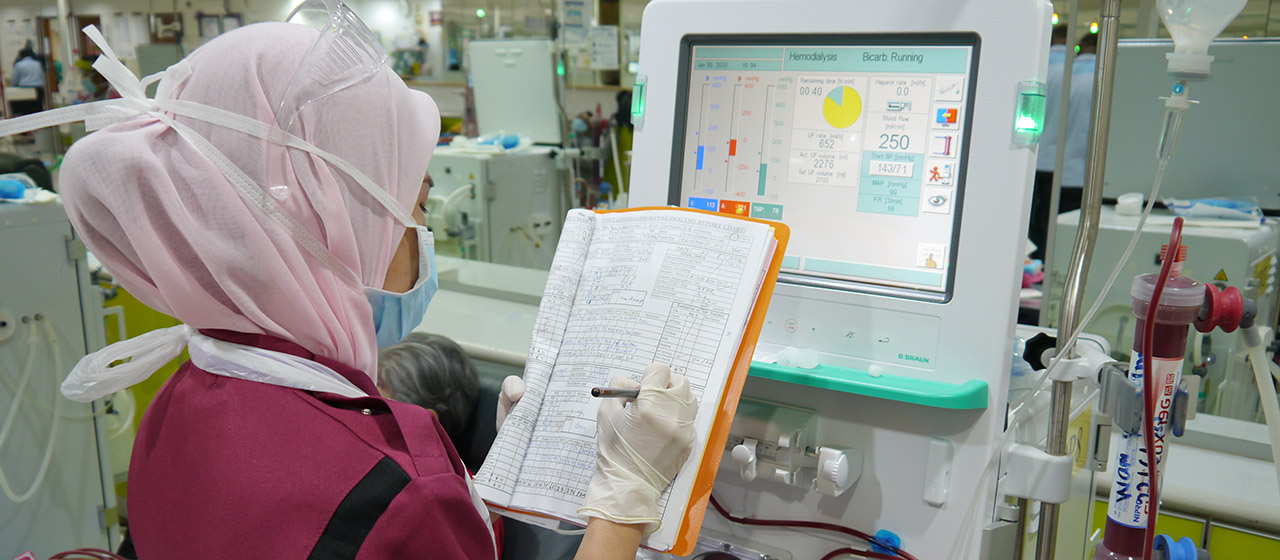 There are two main types of dialysis : "hemodialysis" and "peritoneal dialysis." Hemodialysis uses a special type of filter to remove excess waste products and water from the body.Peritoneal dialysis uses a fluid that is placed into the patient's stomach cavity through a special plastic tube to remove excess waste products and fluid from the body.
Treatment for hemodialysis takes place in a hemodialysis unit. This is a special building that is equipped with machines that perform the dialysis treatment. Special equipment adds the proper materials to purified water for the dialysis machines. The dialysis unit is also the place where patients can receive dietary counseling and help with social needs.